$89.00
$0.00
Minimal Camera Strap
A great camera strap option for those that prefer a thin strap with
 split-ring connections, the strap is 3/4" for the entire length. Each strap comes with two removable split ring bumpers.
This setup is best suited for film or mirrorless camera mounts, often seen on Fujifilm, Leica, and Sony cameras. Please reach out if you have questions on whether these connections will work with your camera.
Each strap starts with high-quality full-grain leather, which is tanned in the USA. We use leathers with a medium temper that ensure comfort on first use with a "broken-in" feel. Both traditional Film SLR or DSLR cameras from Canon or Nikon work great with this strap, as well as any Leica, Fujifilm, Sony mirrorless cameras.
Sizing: Please add a note at checkout with the measurements you need for your Camera strap Sizes available from 30" to 48" --- 38" to 40" tends to be the most popular all-around sizes. (An easy way to figure out your current length is to use a string to measure the length of your current strap, and then measure the string.)
*Please allow 1-2 weeks production time each item is made to order*
Customer Reviews
12/17/2020
John G.
United Kingdom
Functional
It really is minimal as described and way overpriced for what is a strip of leather with rings at the end. It seems reasonable enough quality but nothing stands out about it. I would say half the price would be fair, you could probably find something very similar at the pet store that would be the same at a fraction of the cost.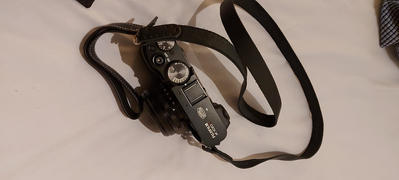 01/04/2021
Clever Supply Co.
Thanks for the feedback, John. I appreciate the candid review, and sorry it didn't live up to your expectations.
KG
11/07/2020
Katie G.
United States
Beautiful right out of the box
The strap feels perfect right away out of the box and fits comfortably around my neck. Very happy with this purchase! I've tried a lot of camera straps and this is one of my favorites!
11/10/2020
Clever Supply Co.
Ah thanks so much for sharing, Katie!
07/03/2020
Kyle S.
United States
Minimal Camera Strap- AWESOME
The minimal camera strap is awesome! Although I ordered it without the peak design clip ons and they sent me the ones with peak design. But it's a great minimal strap and looks great!
08/06/2020
Clever Supply Co.
Thanks for sharing your experience, and letting me correct the mix-up. Hope your new strap serves you well! -Todd