$139.00
$0.00
Anchor Camera Strap w/ Peak Design AL
As a former wedding photographer, I was always on the hunt for classy yet functional camera gear. Most of the innovative straps out there were either too bulky or made from materials I didn't care for. So I decided to develop a camera strap I liked using from reliable materials and aimed to match both the legacy and modern shooter's needs. Each strap starts with high-quality full-grain leather, which is tanned in the USA. We use leathers with a medium temper that ensures comfort on first use with a "broken-in" feel. Both traditional Film SLR or DSLR cameras from Canon or Nikon work great with this strap, as well as any Leica, Fujifilm, Sony mirrorless cameras.
Peak Design Anchors For this camera strap we're using hardware from Peak Design, who has a long history in innovative quick-release products. This is a great choice for someone interested in other Peak Design products, or someone already invested in their ecosystem.
Specs:
• Designed to mount to most camera systems
• High-quality Full-grain Leather
• Peak Design Anchor Links
Customer Reviews
12/01/2020
Roger W.
United States
Superb Craftsmanship!
Beautiful design, superb craftsmanship, and excellent customer service!!! I couldn't be happier with my anchor camera strap. I also purchased the anchor wrist strap, at the same time, and received a 30% discount. With the peak design anchors, I'm able to quickly swap out one for the other. Both look amazing on my Fuji X100V. Highly recommend!!
12/03/2020
Clever Supply Co.
Hey Roger, thanks so much I really appreciate you sharing! Cheers!
11/27/2020
Brad
United States
Excellent!
The leather Todd uses does have a "broken in" feel when you first start using the strap. I like that. Recently, I had just finished shooting with my Fuji x100f, using this strap, @ Rodanthe, OBX and was walking back from the pier. A group of Germans (surprise, during a time of COVID) instantly recognized the camera and were intrigued. We spoke for a while and the commented greatly on the strap, as well. Quality is always recognized by those who know it when they see it! Thank you, Brad
11/28/2020
Clever Supply Co.
Thanks so much for sharing your experience Brad, really appreciate the support! -Todd
09/09/2020
Walter S.
United States
Superb Customer service and great quality
Thanks Todd for superb customer service for my order. The strap looks awesome on my Leica Q2.
09/15/2020
Clever Supply Co.
Great to hear, Walter, thanks for the support and for the chance to fix the mistake I made!
DK
09/04/2020
David K.
United States
Step up your strap game! Get Clever Supply!
I recently got the Anchor Strap. Let me say, genuinely impressed by the quality. Well made and very comfortable! I received so many compliments when I rocked it with my Fujifilm XT3 at a recent wedding! Fantastic product and brand, would highly recommend!!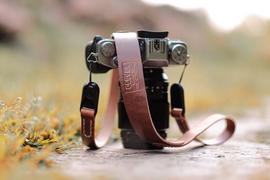 09/15/2020
Clever Supply Co.
Thanks so much, David! Love the image, thanks for sharing!
08/20/2020
Arthur T.
United States
Great Job!!!
My overall experience was fantastic. Todd was super responsive, he has excellent customer service, and the craftsmen ship on my camera strap is amazing! This is my first leather camera strap and im ready to rock it for years to come. Thanks!