$68.00
$0.00
Anchor Wrist Camera Strap w/ Peak Design AL
The Anchor Wrist Strap is made from a 3/4" Strap and is perfect for a smaller minimal carry, or those looking to switch to different secure options instead of a neck strap. Each strap starts with high-quality full-grain leather, which is tanned in the USA. We use leathers with a medium temper that ensure comfort on first use with a "broken-in" feel.
Peak Design Anchors For this camera strap we're using hardware from Peak Design, how has a long history in innovative quick-release products. This is a great choice for someone interested in other Peak Design products, or someone already invested in their ecosystem. Carry your Leica, Fujifilm or other mirrorless cameras with this small leather wrist strap
Specs:
• Designed to mount to most camera systems
• High-quality Full-grain Leather
• Peak Design Anchor Links
Customer Reviews
09/18/2020
William L.
United States
Excellent addition for my Fuji
Gives me the added confidence that I won't drop and damage my gear. The quality and workmanship is excellent plus styling and finish is great.
11/10/2020
Clever Supply Co.
Thanks so much for the kind words! Cheers!
08/01/2020
Florence C.
France
Perfect
I was interested by the wrist strap with the peak design attach but I do prefer stitches over a rivet. I made the demand and no problem, Todd did it . Thanks a lot ! My wrist strap is perfect!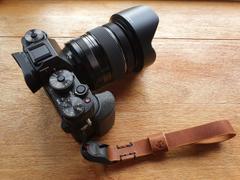 08/06/2020
Clever Supply Co.
Hey Florence, thanks so much for the kind words! I'm so glad you enjoy your camera strap. I now offer the stitch option on my site because of your suggestion! Cheers! -Todd
JM
07/08/2020
Joshua M.
United States
Quality Handmade Products, Unbeatable Customer Service
Todd with Clever Supply Co. makes beautifully handcrafted neck straps, wrist straps and more. His products are extremely well made and although mine are new, I can tell they will break in like an old catcher's mitt. That's exactly what I want in a leather product. When Todd sent me my first wrist strap, I asked for a change in length. He definitely didn't have to accommodate, but he was happy to. He not only made me a new one at a longer length, but he also helped me match the leather color on it to the leather half case I had on my Sony A7RIII camera. And if that wasn't enough, he even offered to let me keep the first one so I had one on hand while the new one was getting made. Unbelievable. My experience with Clever Supply Co. has reminded me of what built America. Small business owners, hand crafted products and unbeatable customer service. I highly recommend shopping here.
08/06/2020
Clever Supply Co.
Sheeesh, Joshua, thanks so much for the kind words. I really appreciate the support and you sharing your experience! Cheers! -Todd